There are many different forms of travel journalism. Traditionally featured in newspaper travel sections and magazines, modern travel writing has also found a voice on websites, blogs and forums. Different types of travel articles have different styles and formats.  Understanding these differences will allow you to identify your area of speciality and assist you to recognise the publications that run each article type. Here we look at the most popular travel articles and the publications that need them.
Destination articles
Descriptive accounts of a particular place; a good destination article takes its readers on an armchair tour. A great destination piece involves crafty writing, useful information and an insight into the underlying essence of a place.
Destination articles cover off on historical facts, points of interest, encounters and ideally previously undiscovered local hotspots. An artist with words, the travel journalist paints a picture while providing in depth information on the area. Generally written in the first person, the article follows a narrative and adopts a clear theme, usually one that captures an overlooked activity in a particular place. This gives a purpose to the piece and a reason for the reader to pay attention.
A popular form of travel journalism, destination articles most commonly appear in newspaper travel sections and inflight magazines. A unique angle will help to ensure your piece is fresh.
Holiday and special events
Date-specific, holiday or special event articles revolve around certain points of the calendar year.  Therefore, these articles need to be well planned in advance and pitched to the right publication.
Travel journalists should actually be ready to pitch a couple of months after an annual event for its occurrence the following year. It pays to be organised with a calendar for the next couple of years; conduct thorough research on where big events and special occasions will next occur, and plan your pitches around them.
The Olympics, World Cups and cultural festivals are prime examples of special events that generate tourists, and where there is a need for a travel, travel articles are required to satisfy the market. Stories can be progressively written in the lead up with an introduction to the event, then a piece based on an interview with an event organiser/participant and so on. Starting out with events in your local area can be great practice for these types of pieces.
Holiday and special events pieces are well suited to magazines in both print and online formats, but it's also worthwhile to try PR-focused angles such as Event Sponsor newsletters and publications.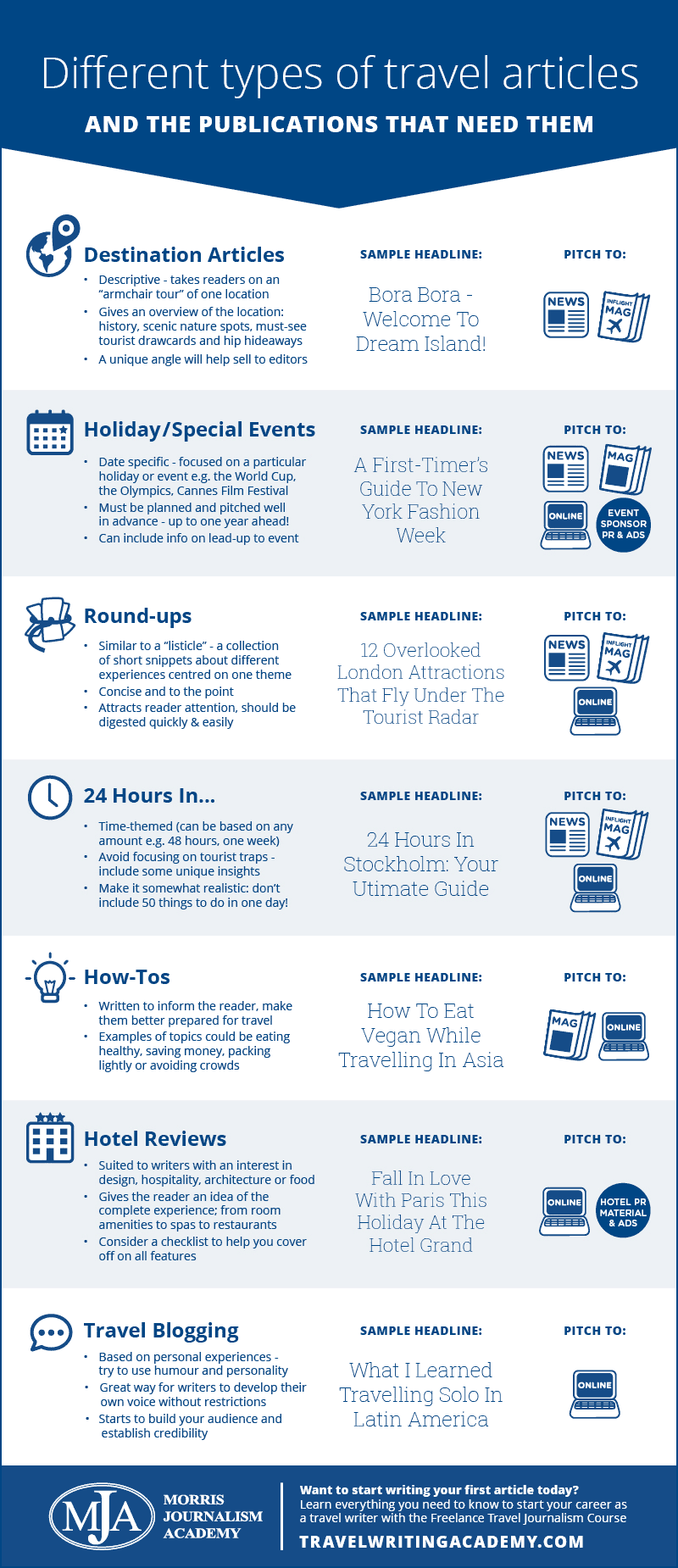 Round-ups
Similar to a "listicle", a round-up article gathers a number of destinations or travel experiences under one heading. Not only are they popular to write, editors love them and readers digest them quickly. Generally based on a combination of personal experience and good research, round-ups are packed with succinct, useful information.
Concise and to the point, round-ups are similar in style to guidebooks.  Given its brevity, a round-up article needs to pack a punch, avoid overused clichés and be accurate.  A strong theme will be evident, with the travel journalist providing new and interesting information.  An example of a round-up title might be "Overlooked London attractions that fly under the tourist radar".
Round-ups can also be activity based and feature a specific sport or recreation. Travel journalists with a hobby or expertise can really explore their interest. A possible angle for this type might be "Top ten best ski lodges".
Round-up articles feature in the travel section of newspapers and inflight magazines. Great for online publications as well, these are an easy read for the audience to scan and get the information they need quickly.
24 Hours In…
As the name suggests, 24 Hours In… stories are based on time-themed experiences, though of course they can refer to other periods of time (48 hours, one week etc.)
Ever-popular and increasingly common, the trick is to find an edge that isn't your usual. Tourist traps need to be avoided. Pieces like this need to focus on places less travelled, or on areas extremely well-known to the travel journalist, so that they can offer some local in depth insight.
Chatty in nature, 24 Hours In… stories can follow an itinerary or include sub titles along the lines of: Must Stay, Must Eat, Must See. Often with a tight word count, a travel journalist will consider of the most important information to include and be clever with their words. Many readers seek authentic, quality, local eateries gems off the tourist map, so hunt them out.
Travel magazines, print newspapers and online publications like to publish well written 24 Hours In… stories.  Also found in airline magazines, these types of articles offer passengers a snapshot on other destinations the airlines services.
How-Tos
Readers expect an article to inform them, entertain them or to teach them something.  This is where How-To articles enter the market.  How-To pieces exist in all journalism genres, and travel writing is no different.
In How-To pieces, travel journalists become a tour guide for their readers and offer a solutions to potential travel issues before they occur.
Saving money when travelling, eating healthy or packing lightly are just the tip of the iceberg of possible How-To articles. Such pieces require thorough research and good general knowledge of the issue at hand. The addition of a few informative quotes from industry experts will increase the piece's credibility.
How-Tos must be logically formatted and contain even the most obvious of steps, with the language simple and to the point. Promising the reader they will learn something having read the article, the travel journalist needs to deliver.
Traditionally featuring heavily in magazines, How-Tos have also found a new domain in travel blogs.
Hotel Reviews
Hotels make up a huge part of the travel industry.  It's a marketable niche.  Suited to those with an interest in interior design, hospitality or architecture, travel journalists who write hotel reviews will have some degree of knowledge of what works and what doesn't.
As thoughts of complimentary cocktails come to mind, be warned that writing a thousand words on one building and its attractions as opposed to a complete destination, can actually be tough work.
Travel and general interest magazines are keen to cover high profile new openings or refurbishments. PR media releases and information on a hotel's website will not compare to an individual's personal experience of staying there.  Travel journalists writing a review are encouraged to start taking notes as soon as they arrive.  Up for review is the hotel's surrounds, comfort, service and ambience. A checklist helps to cover off on the important factors.
The overall purpose of the piece is to give the reader a complete sense of the stay. Good reviews avoid flowery descriptive words and instead provide paramount detail. From the outside of the hotel to the spa choices and the restaurant's food, disclosed details is what the reader wants.
Travel Blogging
A strong online presence is paramount for a travel journalist's and a blog is the easiest way to achieve this. Blogging gives travel journalists the freedom to set the pace and tone, away from publications style, editors and tight deadlines.
Travel bloggers decide what type of articles to include and offers their opinion based on their personal experience. A blog needs to be written in an engaging manner.  Some use controversy and wit to spark interest, while others find a following by applying good old fashioned humour.
Running a blog is a great way to develop your style and gives a travel journalist the opportunity to practice writing and receive feedback from the public.  Once credibility has been established by attracting a dedicated following, travel bloggers may be asked to provide guest contribution to other blogs and may be able to sell advertising on their site to generate income.