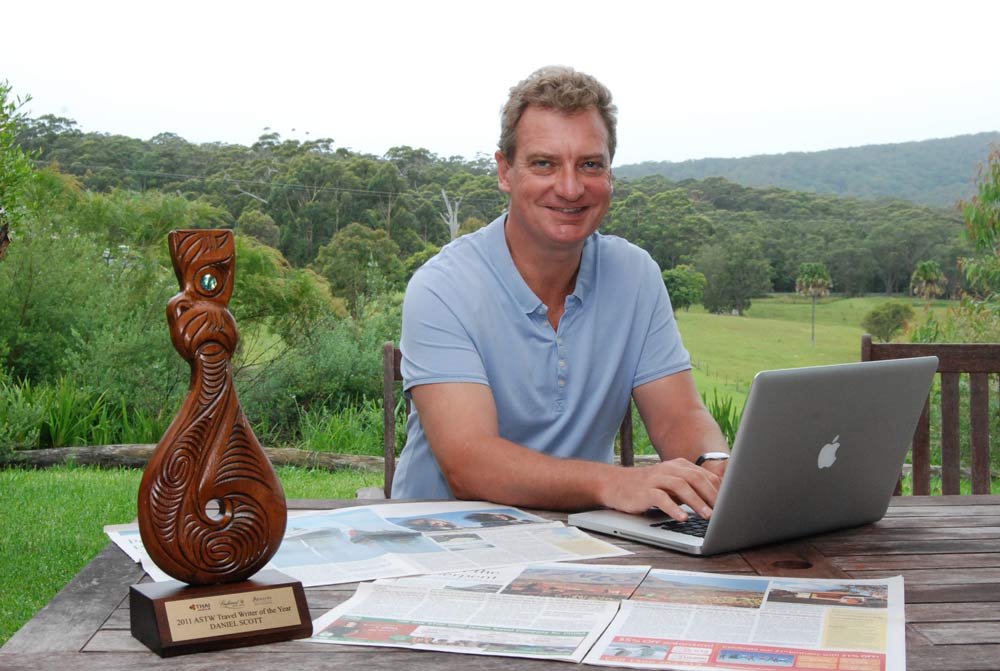 Daniel Scott is a multi-award-winning travel writer, photographer and broadcaster with 25 years experience as a journalist. He writes on travel for such prestigious publications as the Wall Street Journal, The Daily Telegraph (UK), The Sydney Morning Herald and The Melbourne Age and The Australian among many other current outlets.
On the internet, Daniel was a founder member of the prestigious Travel Intelligence website, which brought together the world's finest travel writers, including AA Gill and William Dalrymple. He spent two years blogging on travel for one of Australia's top-rating websites, Channel Nine's ninemsn.com.au, and also contributed daily blogs to the national community-based website "Our Patch" for a year.
Daniel also contributes to the UK Mail on Sunday, part of the hugely successful DMG (Daily Mail Group) that run the most popular travel website in the world.
His guide book credits include work for Fodors, Time Out and the Insight Discovery series. On radio, he has appeared on the BBC and the ABC and regularly on top Australian commercial stations 2GB and 2UE.
Born and educated in the UK and having shared his life between Europe and Australia for the past fifteen years he knows what it takes to be a professional travel journalist in both continents.
As a teacher, Daniel has previously developed and delivered his own face-to-face travel writing course, drawing on his experiences in the UK and Australian markets. This received a rave review from The Guardian when one of their journalists attended a course he delivered in Granada, Spain. Having penned seven produced stage plays, two screenplays and a novel, he also brings a truly creative eye to the business of writing about travel.
Among the dozens of publications Daniel has contributed to are The Times (UK), The Guardian (UK), The South China Morning Post (Hong Kong), The New Zealand Herald, and the airline magazines of Continental Airlines, Qantas, Air New Zealand, Thai Airways, GB Airways, Jetstar and Virgin Australia.
Daniel has so far visited 102 countries, mostly for work, the last three of which were Sri Lanka, the Cook Islands and Iceland. His stories cover the gamut of travel from adventure through indigenous culture to luxurious hotels, although he promises that his favourite mode of accommodation is under canvas in a tent or under the stars in a swag.
In 2011 Daniel won the prestigious Australian Travel Writer of the Year award from the Australian Society of Travel Writers.
Not only is Daniel an experienced and renowned travel writer and journalist but he is also an accomplished teacher and trainer of up-and-coming travel writers!
---
When you enrol you are assigned a tutor to act as your mentor and adviser as you progress through the course.
You and your tutor work together to develop story ideas and writing approaches relating specifically to travel writing. Whatever your level of experience and no matter how far afield you plan to travel, your tutor will be there to guide you through the course and you will draw from their wealth of knowledge and experience.
The friendly Academy staff are also available via email or phone to assist you further with your questions and queries.