Please complete the form below to receive your free course guide and course updates by email.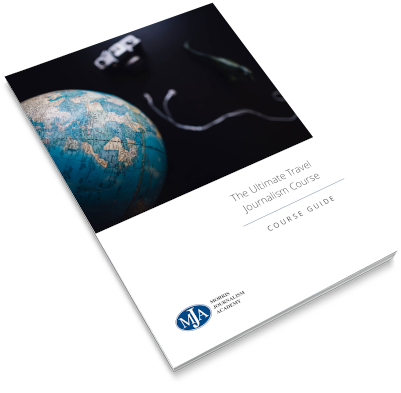 Discover a world of opportunities with this self-paced course
Covering the A-Z of all you need to know to become a successful travel writer, this freelance travel journalism course will provide you with the information you need to develop your skills to ensure your success by teaching you exactly how to go about it.
You will be working directly with an established and current professional in the travel writing industry, a travel journalist with a proven record of success. They will teach you all you need to know to start building your travel writing career.
This freelance travel journalism course will assist you to create opportunities to earn income from anywhere in the world. You can work while sitting at your kitchen table or even while you are embarking on your once in a life time trip… best of all, it provides you with the opportunity to generate this income from doing something you love; travelling!
---
Study with assurance
The Morris Journalism Academy are also proud to offer you these other guarantees:
7-day Free Examination. You may examine the first tutorial for seven days. If you decide for any reason whatsoever not to proceed, simply email the Academy within this period for a full refund of any fees paid.
We guarantee we'll work with you to get your work published. If you are serious about seeing your work in the public domain; we're serious about assisting you to achieve success.
We'll also continue working with you until you see your first payment. Certainly, you can expect to be well on the way towards being published by the end of this course but we'll also continue to work with you until you receive your first payment, even if it takes a year!
---
Accreditation from academic leaders
The Morris Journalism Academy and The Ultimate Travel Journalism Course are approved with the International Accreditation & Recognition Council (IARC).The IARC provides a recognition and accreditation system, for distinguishing quality post secondary education, including vocational education, distance education, adult and continuing education. The international recognition and accreditation that this course offers serves both our local and international students. In this way, this freelance journalism course allows students to use their internationally recognised accreditation both locally and abroad – which as a travel writer, is incredibly useful.
You can read more about our accreditation here.